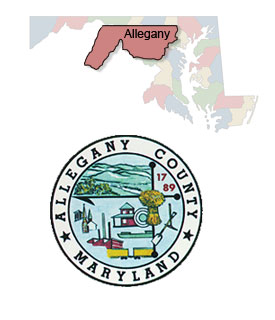 Allegany County
Honorable Rebecca D. Drew
59 Prospect Square - 1st Floor
Cumberland, Maryland 21502
(301) 724-3760
(888) 724-0148
Fax (301) 724-1249 **

Register of Wills
The Register of Wills is responsible for appointing personal representatives to administer decedents' estates and for overseeing the proper and timely administration of these proceedings. We also perform the following duties: assist and advise the public in the preparation of all required forms; maintain and preserve the permanent record of all proceedings; serve as the Clerk to the Orphans' Court; track estates and refer delinquent matters to the Court; determine and collect inheritance taxes and probate fees/court costs; audit accounts of personal representatives and guardians; mail various notices and court orders to interested persons; and, verify compliance with court orders. As a service we provide safekeeping for wills of living persons who reside in Allegany County.
The Importance of Wills and Estate Planning
Appointment of trusted fiduciaries (personal representatives, trustees and guardians)
Achieve maximum savings of administrative costs and death taxes
Dispose of your estate according to your wishes
Avoid possible family disputes
History
Origin: Allegany County was formed in 1789 from Washington County (Chapter 29, Acts of 1789). Allegany comes from the Indian word, oolikhanna, meaning "beautiful stream."

The Allegany County Courthouse is the Maryland Circuit court for Allegany County, Maryland, United States. It is located in Cumberland's Washington Street Historic District. Although many church spires dot the Cumberland landscape, it is the Allegany County Courthouse that dominates this city's skyline. The building is prominently sited along Washington Street, which rises sharply from Wills Creek running through the heart of Cumberland. Historically, courthouses in America have been one of the most architecturally impressive buildings within a community. In this way, the architecture of the building was able to convey the authority of a local government, as well as instill respect and recognition.
County Seat: Cumberland, MD 21502
Form of Government: Code Home Rule since 1974
Population
1990 census: 74,946
2000 census: 74,930
For A Historical List Of Allegany County Registers Of Wills (MD State Archives Link) Click Here

Office Information
Business Hours: 8:30 am - 4:30 pm
Monday through Friday
** Please be advised that no filing of a pleading or paper may be made by transmitting it directly to the Court by electronic transmission.
Orphans' Court sessions are held every Tuesday and Friday 9am - 12pm
Cell phone use is not permitted in the annex
Parking - Washington Street now has automated parking kiosks which must be utilized to pay for parking. These machines have taken the place of the old parking meters. The new machines will accept coin, as well as credit and debit cards.