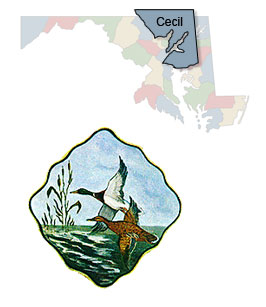 Cecil County
Honorable Allyn Price Nickle
Circuit Courthouse
129 East Main Street - Suite 102
Elkton, Maryland 21921
(410) 996-5330
(888) 398-0301
Fax (410) 996-1039
Register of Wills
The Register of Wills is responsible for appointing personal representatives to administer decedents' estates and for overseeing the proper and timely administration of these proceedings. We also perform the following duties: assist and advise the public in the preparation of all required forms; maintain and preserve the permanent record of all proceedings; serve as the Clerk to the Orphans' Court; track estates and refer delinquent matters to the Court; determine and collect inheritance taxes and probate fees/court costs; audit accounts of personal representatives and guardians; mail various notices and court orders to interested persons; and, verify compliance with court orders. As a service we provide safekeeping for wills of living persons who reside in Cecil County.
The Importance of Wills and Estate Planning
Appointment of trusted fiduciaries (personal representatives, trustees and guardians)
Achieve maximum savings of administrative costs and death taxes
Dispose of your estate according to your wishes
Avoid possible family disputes
Origin of Cecil County
Cecil County was erected in 1674 from Baltimore and Kent counties by proclamation of the Governor. The County was named for Cecilius Calvert (1605-1675), Second Lord Baltimore, and founder of the Maryland colony. Although he never lived in Maryland, Cecilius Calvert was Proprietor of the colony from 1632 until his death in Middlesex, England in 1675.
To read more Cecil County History (Cecil County Tourism Link) Click Here


For a historical list of Cecil County Registers of Wills (MD State Archives Link) Click Here

Office Information
Business Hours: 8:30 am - 4:30 pm
Monday through Friday
Appointments are recommended to open estates in order to promote faster service.
Note: Person(s) entering the Courthouse are subject to search of their person and belongings.
Click here for more information.
*PLEASE NOTE*
Our Mailing Address Is:
Register of Wills, Cecil County
P O Box 468
Elkton, MD 21922-0468