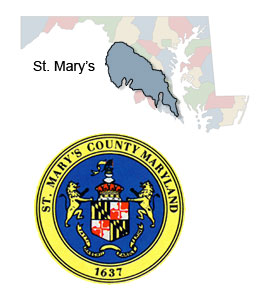 St. Mary's County
Honorable Lois A. Duke
Courthouse
41605 Courthouse Drive
Leonardtown, Maryland 20650
(301) 475-5566
(888) 475-4821
Fax (301) 475-4968
Register of Wills
The Register of Wills is responsible for appointing personal representatives to administer decedents' estates and for overseeing the proper and timely administration of these proceedings. We also perform the following duties: assist and advise the public in the preparation of all required forms; maintain and preserve the permanent record of all proceedings; serve as the Clerk to the Orphans' Court; track estates and refer delinquent matters to the Court; determine and collect inheritance taxes and probate fees/court costs; audit accounts of personal representatives and guardians; mail various notices and court orders to interested persons; and, verify compliance with court orders. As a service we provide safekeeping for wills of living persons who reside in St. Mary's County.
The Importance of Wills and Estate Planning
Appointment of trusted fiduciaries (personal representatives, trustees and guardians)
Achieve maximum savings of administrative costs and death taxes
Dispose of your estate according to your wishes
Avoid possible family disputes
St. Mary's County Quick Facts
The settlement of Lord Baltimore's Maryland began with the arrival of passengers from England at St. Clement's Island in the Potomac River in what is now southwestern St. Mary's County on March 25, 1634 (the anniversary of this landing being annually celebrated as Maryland Day). The passengers arrived in two vessels, the Ark and the Dove, which had set sail from the Isle of Wight on November 22, 1633. The county is also home to the first Catholic Mass celebrated in the original thirteen colonies.
St. Mary's County was the first county established in Maryland, in 1637, probably by an order of the Governor. The county seat and state capital was St. Mary's City.
In 1649, Lord Baltimore, with the Maryland General Assembly, passed the Maryland Toleration Act, which provided religious freedom for any (Christian) sect, and which was the first law of its kind in the New World. There is a statue in St. Mary's City commemorating this event.
St. Mary's County is where Francis Scott Key, the author of a poem which became The Star Spangled Banner, grew up and was the birthplace of Dashiell Hammett. The county has a number of properties on the National Register of Historic Places.
The largest employer is Patuxent River Naval Air Station and its related aerospace contract firms. There are both Amish and Mennonite communities who follow traditional ways. Tobacco, once dominant crop, has declined in recent years. The Maryland International Raceway (Budd's Creek) attracts many auto racing enthusiasts.
St. Mary's County has the oldest documented sheriff's office in Maryland and one of the oldest in the United States. In 1637 James Baldridge was appointed sheriff. Since 1776, sheriffs in St. Mary's County have been determined by election.
St. Mary's County is governed by county commissioners, the traditional form of county government in Maryland. The county seat is now Leonardtown
For a historical list of St. Mary's County Registers of Wills (MD State Archives Link) Click Here

Office Information
Business Hours: 8:30 am - 4:30 pm
Monday through Friday
*PLEASE NOTE*
Our Mailing Address Is:
Register of Wills, St. Mary's County
P O Box 602
Leonardtown, MD 20650