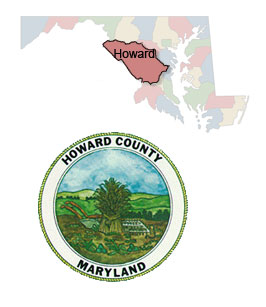 Howard County
Honorable Byron E. Macfarlane
Circuit Courthouse
8360 Court Avenue
Ellicott City, Maryland 21043
(410) 313-2133
(888) 848-0136
Fax (410) 313-3409
Register of Wills
The Register of Wills is responsible for appointing personal representatives to administer decedents' estates and for overseeing the proper and timely administration of these proceedings. We also perform the following duties: assist and advise the public in the preparation of all required forms; maintain and preserve the permanent record of all proceedings; serve as the Clerk to the Orphans' Court; track estates and refer delinquent matters to the Court; determine and collect inheritance taxes and probate fees/court costs; audit accounts of personal representatives and guardians; mail various notices and court orders to interested persons; and, verify compliance with court orders. As a service we provide safekeeping for wills of living persons who reside in Howard County.
The Importance of Wills and Estate Planning
Appointment of trusted fiduciaries (personal representatives, trustees and guardians)
Achieve maximum savings of administrative costs and death taxes
Dispose of your estate according to your wishes
Avoid possible family disputes
Howard County Quick Facts
Howard District was created from Anne Arundel County by Chapter 22, Acts of 1838 (confirmed by Chapter 50, Acts of 1839). Although unrepresented in the General Assembly, the District enjoyed the status of a county. It officially was formed as a county in 1851 (Const. 1851, Art. VIII, sec. I). The County was named for John Eager Howard (1752-1827), Revolutionary War officer, Maryland governor, and statesman.
Howard County is located in the Maryland Piedmont region, with rolling hills making up most of the landscape. Its largest community is Columbia, though it is not an incorporated city under Maryland law; in fact, Howard County has no incorporated municipalities. The northern portion of Howard County is part of the outskirts of Baltimore, while the southern is more oriented toward Washington, D.C. Howard County is the only "Maryland-locked" county in the state, being the only county entirely enclosed by land and river boundaries with other Maryland counties.
To Read More About Howard County's history, Click Here

.
For a historical list of Registers of Wills for Howard County Click Here


(Maryland State Archives Link)
Office Information
Business Hours: 8:30 am - 4:30 pm
Monday through Friday
Inclement Weather Closings and Delays
Notice: All visitors to the Circuit Courthouse must pass through security scanners.
Notice: To better assist you, please call before coming in to open an estate. Staff members can advise what will be required in order to serve you more expeditiously.