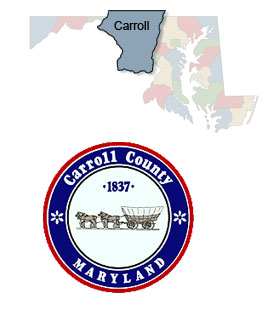 Carroll County
Honorable Paul G. Zimmermann
Courthouse Annex
55 North Court Street - Room 124
Westminster, Maryland 21157
(410) 848-2586
(888) 876-0034
Fax (410) 876-0657
Register of Wills
The Register of Wills is responsible for appointing personal representatives to administer decedents' estates and for overseeing the proper and timely administration of these proceedings. We also perform the following duties: assist and advise the public in the preparation of all required forms; maintain and preserve the permanent record of all proceedings; serve as the Clerk to the Orphans' Court; track estates and refer delinquent matters to the Court; determine and collect inheritance taxes and probate fees/court costs; audit accounts of personal representatives and guardians; mail various notices and court orders to interested persons; and, verify compliance with court orders. As a service we provide safekeeping for wills of living persons who reside in Carroll County.
The Importance of Wills and Estate Planning
Appointment of trusted fiduciaries (personal representatives, trustees and guardians)
Achieve maximum savings of administrative costs and death taxes
Dispose of your estate according to your wishes
Avoid possible family disputes
A Brief History of Carroll County
Carroll County was created in 1837 with land taken from Frederick and Baltimore Counties. The County was named for Charles Carroll of Carrollton, a Revolutionary War statesman and a Maryland signer of Declaration of Independence. The County Seat is Westminster.

The first settlers included 3,700 Germans and their impact may still be seen today in the attitudes of its residents.

During the American Civil War, the population of Carroll County was sharply divided between supporters of the Union and the Confederacy. In 1863, there were significant troop movements through the county as part of the Gettysburg campaign. On June 29, 1863, the cavalry skirmish known as Corbit's Charge was fought the streets of Westminster, when two companies of Delaware cavalry attacked a much larger Confederate force under General J.E.B. Stuart.

Carroll County is the birthplace of Francis Scott Key, and the home of the very first Maryland Wine Festival.
For a historical list of Carroll County Registers of Wills (MD State Archives Link) Click Here

Office Information
Business Hours: 8:30 am - 4:30 pm
Monday through Friday
The Office of the Register of Wills will be closed if the Circuit Court is closed.
Important Information