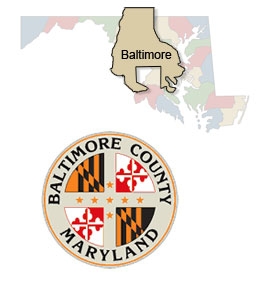 Baltimore County
Honorable Grace G. Connolly
County Courts Building
401 Bosley Avenue - Room 500
Towson, Maryland 21204
(410) 887-6680 | (410) 887-6681
(888) 642-5387
Fax (410) 583-2517
Register of Wills
The Register of Wills is responsible for appointing personal representatives to administer decedents' estates and for overseeing the proper and timely administration of these proceedings. We also perform the following duties: assist and advise the public in the preparation of all required forms; maintain and preserve the permanent record of all proceedings; serve as the Clerk to the Orphans' Court; track estates and refer delinquent matters to the Court; determine and collect inheritance taxes and probate fees/court costs; audit accounts of personal representatives and guardians; mail various notices and court orders to interested persons; and, verify compliance with court orders. As a service we provide safekeeping for wills of living persons who reside in Baltimore County.
The Importance of Wills and Estate Planning
Appointment of trusted fiduciaries (personal representatives, trustees and guardians)
Achieve maximum savings of administrative costs and death taxes
Dispose of your estate according to your wishes
Avoid possible family disputes
Baltimore County Quick Facts
Baltimore County is located in central Maryland, borders Pennsylvania on the north and encircles Baltimore City on the south like a horseshoe. Most (about 80%) of the county is located in the piedmont plateau with gently rolling hills. The remaining 20% is in the coastal plain region with flat sandy soils. Within its beautiful valleys are located many thoroughbred horse farms. It is the third largest county in the state.

Baltimore County was formed by 1659. At that time it was made up more than one quarter of present-day Maryland and included parts of (or all of) today's Harford County, Cecil County, Frederick County & Carroll County. The original county seat was at Spesutia Island, located in Joppa Town. In 1768, the county seat was moved to Baltimore Town. When Baltimore was incorporated as a city, the county seat was moved to its present location in Towson. Since 1851 Baltimore City and Baltimore County have been two completely separate entities.

During the War of 1812, while being detained by British forces on a ship anchored in Baltimore County waters, attorney Francis Scott Key witnessed the bombardment of Fort McHenry. When the assault was over, Key realized the British had given up. The sight of the 'Stars & Stripes' still flying over the fort inspired him to write the poem that became "The Star-Spangled Banner", our National Anthem. CLICK HERE TO READ MORE

For A Brief History of Baltimore County Click Here
For A Historical List Of Baltimore County Registers Of Wills (MD State Archives Link) Click Here

Office Information
Business Hours: 8:00 am - 4:30 pm
Monday through Friday
NOTICE: All visitors to the County Courts Building must pass through security scanners.
In the event of inclement weather, the Register of Wills Office will be closed if the Baltimore County Circuit Court is closed. Watch WBAL TV 11 for details.
Additional Information
Maryland Estate Tax Returns
can be filed directly with the Comptroller's Office. If you file a Maryland Estate Tax Return with this office, and it has Federal Form 706 attached, postage will be charged for forwarding to the Comptroller's Office.
Safekeeping Wills, held by this office, will only be released to the testator. They can be picked up in person or, if a written request is filed, we will mail the Will to the testator. In either event, a copy of the testator's driver's license is required.
Postage Cost Increase:
The cost for Domestic Certified Mailings has increased to $5.50 per person. (Effective 2/1/2014)