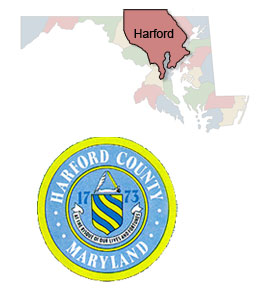 Harford County
Honorable Derek K. Hopkins
Courthouse
20 West Courtland Street - Room 304
Bel Air, Maryland 21014
(410) 638-3275
(888) 258-0525
Fax (410) 893-3177
Register of Wills
The Register of Wills is responsible for appointing personal representatives to administer decedents' estates and for overseeing the proper and timely administration of these proceedings. We also perform the following duties: assist and advise the public in the preparation of all required forms; maintain and preserve the permanent record of all proceedings; serve as the Clerk to the Orphans' Court; track estates and refer delinquent matters to the Court; determine and collect inheritance taxes and probate fees/court costs; audit accounts of personal representatives and guardians; mail various notices and court orders to interested persons; and, verify compliance with court orders. As a service we provide safekeeping for wills of living persons who reside in Harford County.
The Importance of Wills and Estate Planning
Appointment of trusted fiduciaries (personal representatives, trustees and guardians)
Achieve maximum savings of administrative costs and death taxes
Dispose of your estate according to your wishes
Avoid possible family disputes
A Brief History Of Harford County
Harford County was formed in 1773 from the eastern part of Baltimore County. It contains Tudor Hall, birthplace of Abraham Lincoln's assassin, John Wilkes Booth. Harford County also hosted the signers of the Bush Declaration, a precursor document to the American Revolution.

The county was named for Henry Harford (ca. 1759-1834), illegitimate son of Frederick Calvert, 6th Baron Baltimore. Harford was the last Proprietary Governor of Maryland, but did not inherit his father's title because of his illegitimacy.

Havre de Grace, an incorporated city in Harford County, was once under consideration to be the capital of the United States rather than Washington, D.C.. It was favored for its strategic location at the top of the Chesapeake Bay; this location would facilitate trade while being secure in time of war.

Harford County was granted a charter form of government in 1972. The County Seat is Bel Air.
For A Historical List Of Harford County Registers Of Wills (MD State Archives Link) Click Here

Office Information
Business Hours: 8:30 am - 4:30 pm
Monday through Friday
NOTICE: All visitors to the Harford County Courthouse must pass through security scanners.
Weapons, cameras and cell phones are not allowed in the building.
You will be required to return them to your vehicle.