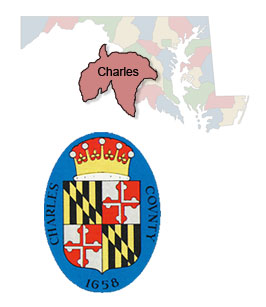 Charles County
Honorable Loraine D. Hennessy
Courthouse
11 Washington Avenue
PO Box 3080
La Plata, Maryland 20646-3080
(301) 932-3345
(888) 256-0054
Fax (301) 932-3349
Register of Wills
The Register of Wills is responsible for appointing personal representatives to administer decedents' estates and for overseeing the proper and timely administration of these proceedings. We also perform the following duties: assist and advise the public in the preparation of all required forms; maintain and preserve the permanent record of all proceedings; serve as the Clerk to the Orphans' Court; track estates and refer delinquent matters to the Court; determine and collect inheritance taxes and probate fees/court costs; audit accounts of personal representatives and guardians; mail various notices and court orders to interested persons; and, verify compliance with court orders. As a service we provide safekeeping for wills of living persons who reside in Charles County.
The Importance of Wills and Estate Planning
Appointment of trusted fiduciaries (personal representatives, trustees and guardians)
Achieve maximum savings of administrative costs and death taxes
Dispose of your estate according to your wishes
Avoid possible family disputes
Charles County Quick Facts
Named in honor of Charles Calvert (1637-1715), 3rd Lord Baltimore, Charles County was created in 1658 by an Order in Council. There was an earlier Charles County from 1650 to 1653, sometimes referred to in historic documents as Old Charles County.
In April 1865, John Wilkes Booth made his escape through Charles County after shooting President Abraham Lincoln. He was on his way to Virginia to escape Union soldiers.
On 28 April 2002, a tornado cut through the county and destroyed much of downtown La Plata, the county seat.
One of Maryland's oldest counties, Charles County celebrated its 350th anniversary in 2008.
The main industries when this county was established were agriculture, farming (main crop being tobacco plus corn and other crops), fishing/seafood and hunting. The county has a number of properties on the National Register of Historic Places.
For a historical list of Charles County Registers of Wills (MD State Archives Link) Click Here

Office Information
Business Hours: 8:30 am - 4:30 pm
Monday through Friday
If you are opening an estate, please arrive at our office by 3:30 p.m. to allow ample time for the process.
Cell Phones Are NOT Permitted In The Courthouse
*PLEASE NOTE*
Our Mailing Address Is:
Register of Wills, Charles County
P O Box 3080
La Plata, MD 20646-3080
Mail sent to 11 Washington Avenue will be returned to sender.
Additional Information
Maryland Estate Tax Returns
can be filed directly with the Comptroller's Office. If you file a Maryland Estate Tax Return with this office, and it has Federal Form 706 attached, postage will be charged for forwarding to the Comptroller's Office.