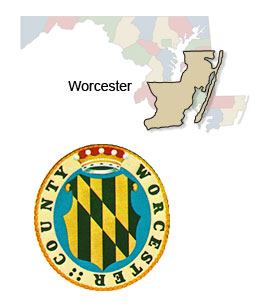 Worcester County
Honorable Charlotte K. Cathell
Courthouse
1 West Market Street - Room 102
Snow Hill, Maryland 21863
(410) 632-1529
(888) 256-0047
Fax (410) 632-5600
Register of Wills
The Register of Wills is responsible for appointing personal representatives to administer decedents' estates and for overseeing the proper and timely administration of these proceedings. We also perform the following duties: assist and advise the public in the preparation of all required forms; maintain and preserve the permanent record of all proceedings; serve as the Clerk to the Orphans' Court; track estates and refer delinquent matters to the Court; determine and collect inheritance taxes and probate fees/court costs; audit accounts of personal representatives and guardians; mail various notices and court orders to interested persons; and, verify compliance with court orders. As a service we provide safekeeping for wills of living persons who reside in Worcester County.
The Importance of Wills and Estate Planning
Appointment of trusted fiduciaries (personal representatives, trustees and guardians)
Achieve maximum savings of administrative costs and death taxes
Dispose of your estate according to your wishes
Avoid possible family disputes
Worcester County Quick Facts
Worcester County is the state's only county that touches the Atlantic Ocean. It was officially formed in 1742 when it was divided from Somerset County. The County was named for the Earl of Worcester. Captain John Smith and Giovanni de Verazanno explored the County in 1524 when the area was home to Native Americans. The earliest settlement was settled in 1624 and named Snow Hill. Snow Hill serves as the county seat.
Worcester County's topography is made up of mostly flatlands that are bordered by the barrier islands along the Atlantic coast. These barrier islands include the Assateague Island State Park and National Seashore that are undeveloped. The county encompasses 475 square miles. Water and wetlands form 30 percent of the county's area. The county includes the Pocomoke River, a tributary of the Chesapeake Bay, that is one of the deepest North American rivers for its length.
Today, tourism is the primary economic force and is driven by the Town of Ocean City's attractions that include its boardwalk and ten miles of public beaches. During the summer, the population of Ocean City grows to make it the state's second most populous city after Baltimore. Agriculture has been a major industry since the colonial era. Today, poultry is the primary agricultural product though less than five percent of the county's workforce is farmers.
More about Worcester County, from Maryland Manual On-Line

.
For A Historical List Of Worcester County Registers Of Wills (MD State Archives Link) Click Here

Office Information
Business Hours: 8:30 am - 4:30 pm
Monday through Friday