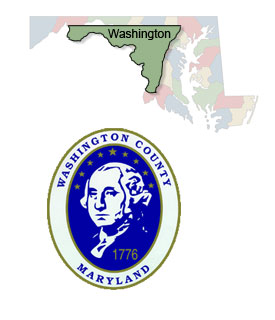 Washington County
Honorable Jason A. Malott
Courthouse
24 Summit Avenue - Room 213
Hagerstown, Maryland 21740
(301) 739-3612 | (301) 739-3619
(888) 739-0013
Fax (301) 733-8636
Register of Wills
The Register of Wills is responsible for appointing personal representatives to administer decedents' estates and for overseeing the proper and timely administration of these proceedings. We also perform the following duties: assist and advise the public in the preparation of all required forms; maintain and preserve the permanent record of all proceedings; serve as the Clerk to the Orphans' Court; track estates and refer delinquent matters to the Court; determine and collect inheritance taxes and probate fees/court costs; audit accounts of personal representatives and guardians; mail various notices and court orders to interested persons; and, verify compliance with court orders. As a service we provide safekeeping for wills of living persons who reside in Washington County.
The Importance of Wills and Estate Planning
Appointment of trusted fiduciaries (personal representatives, trustees and guardians)
Achieve maximum savings of administrative costs and death taxes
Dispose of your estate according to your wishes
Avoid possible family disputes
A Brief History of Washington County
Washington County is located in Western Maryland, bordered by Pennsylvania on the North and West Virginia on the South. It was created from Frederick County in 1776 and was named in honor of our first president, George Washington. The county seat is Hagerstown.

Washington County is the heart of the fruit industry in Maryland. Apple and peach growers harvest over 26 million pounds each year. Dairying is also very important in Washington County. In addition to milk and fruit, the chief agricultural goods are cereal grains.

A rich historical heritage adds to the attractions for tourists. Antietam National Battlefield is located in the Sharpsburg area. Approximately 350,000 visitors tour the battlefield each year. It was at Antietam, during the Civil War, that the bloodiest single-day battle in American history took place.

The citizens of Washington County enjoy the C & O Canal, Potomac River and Appalachian Mountains for their recreational activities.
For A Historical List Of Washington County Registers Of Wills (MD State Archives Link) Click Here

Office Information
Business Hours: 8:30 am - 4:30 pm
Monday through Friday
Orphans' Court meets:
Tuesday & Friday 9:00 am - 1:00 pm
Anyone entering the Circuit Court building must use the Summit Ave. entrance and must pass through security scanners. Cell phones with cameras are not allowed in the Courthouse as well as pocket knives regardless of size.