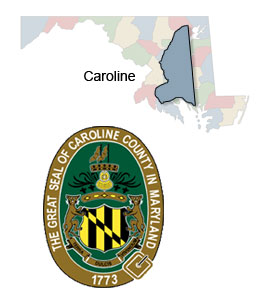 Caroline County
Honorable James L. Phelps
Courthouse
109 Market Street - Room 119
Denton, Maryland 21629
(410) 479-0717
(888) 786-0019
Fax (410) 479-4983
Register of Wills
The Register of Wills is responsible for appointing personal representatives to administer decedents' estates and for overseeing the proper and timely administration of these proceedings. We also perform the following duties: assist and advise the public in the preparation of all required forms; maintain and preserve the permanent record of all proceedings; serve as the Clerk to the Orphans' Court; track estates and refer delinquent matters to the Court; determine and collect inheritance taxes and probate fees/court costs; audit accounts of personal representatives and guardians; mail various notices and court orders to interested persons; and, verify compliance with court orders. As a service we provide safekeeping for wills of living persons who reside in Caroline County.
The Importance of Wills and Estate Planning
Appointment of trusted fiduciaries (personal representatives, trustees and guardians)
Achieve maximum savings of administrative costs and death taxes
Dispose of your estate according to your wishes
Avoid possible family disputes
Origin of Caroline County
Caroline County was created in 1773 from parts of Dorchester and Queen Anne's Counties. The county derives its name from Lady Caroline Eden, wife of Maryland's last colonial governor Robert Eden. At the time of its creation, seven commissioners were appointed: Charles Dickinson, Benson Stainton, Thomas White, William Haskins, Richard Mason, Joshua Clark, and Nathaniel Potter. These men bought 4 acres (16,000 m2) of land at Pig Point (now Denton) on which to build a courthouse and jail.

Until the completion of these buildings, court was held at Melvill's Warehouse, approximately 1.5 miles (2.4 km) above Pig Point. Elections and other business transactions were completed there, and the town became the center of the county. The first court session was held on March 15, 1774, at Melvill's Warehouse. In 1777, court was moved to Bridgetown (now Greensboro), but in the interest of convenience, court was moved back to Melvill's.

Disagreements arose concerning the permanent location of the county seat. The General Assembly reached a compromise in 1785 and ordered that 2 acres (8,100 m2) of land at Melvill's Landing should be purchased for a courthouse and jail. In 1790, the county court and its belongings moved to Pig Point (now Denton). The Caroline County Courthouse was completed in 1797.

The county has a number of properties on the National Register of Historic Places. The National Park Service is considering organizing a site in the southern half of Caroline County dedicated to interpreting the Underground Railroad.
For a historical list of Caroline County Registers of Wills (MD State Archives Link) Click Here

Office Information
Business Hours: 8:30 am - 4:30 pm
Monday through Friday
Camera cell phones are not permitted in the Courthouse