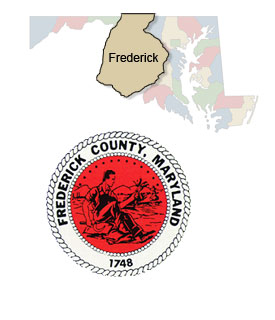 Frederick County
Honorable Sharon Keller
Courthouse
100 West Patrick Street
Frederick, Maryland 21701
(301) 600-6565
(888) 258-0526
Fax (301) 600-6580
Register of Wills
The Register of Wills is responsible for appointing personal representatives to administer decedents' estates and for overseeing the proper and timely administration of these proceedings. We also perform the following duties: assist and advise the public in the preparation of all required forms; maintain and preserve the permanent record of all proceedings; serve as the Clerk to the Orphans' Court; track estates and refer delinquent matters to the Court; determine and collect inheritance taxes and probate fees/court costs; audit accounts of personal representatives and guardians; mail various notices and court orders to interested persons; and, verify compliance with court orders. As a service we provide safekeeping for wills of living persons who reside in Frederick County.
The Importance of Wills and Estate Planning
Appointment of trusted fiduciaries (personal representatives, trustees and guardians)
Achieve maximum savings of administrative costs and death taxes
Dispose of your estate according to your wishes
Avoid possible family disputes
Some Information About Frederick County
Frederick County was formed in 1748 with land taken from Prince George's County; in 1776 it then became the parent to Montgomery and Washington Counties. Frederick County is Maryland's largest county in size - 662.7 square miles. 2010 census projections have Frederick County with almost 234,000 people. The County Seat is Frederick City, which at times has been considered the second largest city in Maryland (according to census figures).

Frederick County started out as an agricultural community with one of the richest soil districts in the country being located in the southern part of the county. Today Frederick County is also the largest dairy producer, providing one-third of the State's milk production.

Frederick County is the home of several major Federal, State and Municipal parks, including the 5,700-acre Catoctin Mountain Park, site of the Camp David Presidential Retreat; Cunningham Falls, Gambrill, Gathland, and Washington Monument State Parks; Monocacy National Battlefield; Sugarloaf Mountain; and the C&O Canal Towpath. Frederick City is the home of Francis Scott Key's Monument and gravesite.

There are many historical and cultural attractions in Frederick County, to include Schifferstadt Architectural Museum, Barbara Fritchie House, Roger Brooke Taney House/Francis Scott Key Museum, National Museum of Civil War Medicine, Grotto of Lourdes, Lilypons Water Gardens, Brunswick Railroad Museum, and many covered bridges among the extensive list.

Some activities to be enjoyed in Frederick County are golfing, fishing, hiking, ice skating, canoeing, swimming, orchard and winery tours, historic walking and motorcoach tours, visual and performing arts, art galleries, and a zoological park. Frederick City is also home to the minor league baseball team, The Keys, and Grove Stadium.
Genealogy Assistance
The Frederick County Register of Wills Office has estate records dating back to 1744. The public can access these records for the purpose of tracing genealogies.
(Cost for copies: fifty cents per page)
For A Historical List Of Frederick County Registers Of Wills (MD State Archives Link) Click Here

Office Information
Business Hours: 8:00 am - 4:00 pm
Monday through Friday
Wednesdays we open at 9:00 am
Appointments Are Recommended
Please Note: Auditing Accounts is by appointment only
NOTICE TO PERSONS ENTERING THE FREDERICK COUNTY COURTHOUSE
The following items are prohibited from entering the facility:
Firearms, knives (regardless of size), audio or video recording devices, pepper spray or other chemical defense sprays and weapons of any type.
Items will not be held by Court Security personnel.
Persons possessing these items will be denied entry to the facility.
These items should be secured in your vehicle, or other suitable arrangements should be made to store these items prior to entering.
For inclement weather/Courthouse closings, please contact the County Information Line at 301-600-3000 after 9 pm the day before a Court hearing.